---

The image to the left would tend to imply that I am an evil Sith lord who wears Hawaiian shirts and lacks the ability to maintain a neat workspace. This is not entirely true; I am not a Sith lord.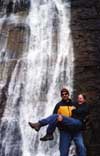 In reality I'm just an average Canadian, kilt wearing, coffee drinking, mountain addicted youngish white male. I enjoy hiking, rock climbing, kayaking, Nordic skiing, coffee, a good single malt, more coffee and a really good spicy curry.
I also enjoy spending time with my absolutely wonderful wife Heather (see the image to the right) and our dogs. Heather has worked as a physical therapist (or physical terrorist depending on your perspective) who poked people with pins (she was certified to use acupuncture in her practice. Now she is a doctor, specifically a rheumatologist. Heather hikes and climbs (my wife climbs 5.10 - heh) as well but she does not share my love for Hawaiian shirts.

I currently live and work in Calgary, Alberta, Canada. Calgary is nestled in the foothills of the Canadian Rocky Mountains. This means that outdoor recreational activities are less than one hour away! To me, this feature balances the typical Canadian weather which often involves snow and low temperatures. However, the arrival of snow and low temperatures usually heralds the arrival of winter outdoor activities (such as Nordic skiing and SUV luge) so this type of weather is in fact a very good thing!!
I very much enjoy what I do as I feel that I get to play with computers all day and get paid for it!! I have a BSc in Computer Science from the U of C but I attended Mount Royal University (it was a College when I was there) for the first two years of my degree. In my humble opinion MRU is a superior post secondary institution as they have remained student focused (small class sizes, stress learning instead of faculty research) as opposed to turning into a for-profit degree machine like some other post-secondary institutions (no names, no pack drill).
When I am not in the mountains, I work as a software engineer, systems administrator and other computer/software related roles.
<shameless-self-promotion humility="0">
In an act of shameless self promotion, I would invite you to have a look at my resume.
</shameless-self-promotion>
The content of this site may seem narcissistic but it is my site after all. The purpose of this site is to talk about myself and my interests and/or hobbies. Me me me me me and more me!!
After having spent a number of years developing web sites and web tools for others, I finally have the opportunity (and motivation) to do some web work for myself for a change. Consequently I feel no shame as I pontificate about all things Dan'ish.
The pages contained in this site have been constructed by hand using the one true editor, vi with the occasional lapse into xemacs. I'm really not fond of HTML editors as they tend to generate poorly formed HTML and use a lot of STADN tags; for more about this have a look at my now really out of date HTML coding standard. I have avoided the use of JavaScript on these pages; I feel there is a time and a place for JavaScript and these pages represent neither!! All of the images you see on this site are thumbnails that are clickable links to the full size images. I chose this approach to avoid lengthy download and render times for the page.
Please realize that the web pages contained in this site are very much a work in progress. When I have the free time, which isn't often (the care and feeding of two dogs and one doctor is a full time job), I will muck with the content of this site.
If you have any comments or questions for me or if you find a dead link, an HTML or spelling error in any of my pages, I would love to hear from you. The best way to get in touch with me is via email at dan@onepointed.com